New to The Mille Miglia ?
This is your potted Mille Miglia guide - hope you find it helpful.....
Buona lettura!
A BRIEF HISTORY
The Mille Miglia is an open road race between the town of Brescia in Lombardy, and Rome - and back again, a distance of approximately 1000 miles. Enzo Ferrari famously called it "the most beautiful race in the world"It originally ran between 1927 and 1957 but following two fatal crashes in 1957 it was banned until, in 1977 the name was revived and the original route was adopted again
Today, the Mille MIglia is a regularity race run on open roads attracting entrants from across the world
Taking place each May, the entry is limited to marques that took part in the race between 1927 and 1957
Attracting approximately 450 cars each year it is one of Italy's premier classic car events
Tazio Nuvolari, Italy's racing legend is said to have compared the Mille Miglia to an exotic cocktail - "you can't name all the ingredients, but once you've experienced it you'll never forget the taste"
So, Alora.....
GETTING THERE
There are a number of options to choose from:
Fly
Drive
Go with an organised group
FLY
There are only two ideal Airports to choose from - Milan or Verona.
MILAN
Milan's Malpensa Airport is north west of Milan and is around 136 km from Brescia and takes around one and a half hours. In my view It is best for you, if a first time Mille traveller to stick to the main and toll roads - driving through rural Italy is extremely pleasant but you can often be met with road works and diversions that send you way off track - and if you are time limited……problem!!
www.milanomalpensa-airport.com
VERONA
Verona's Valerio Catullo Airport is just south of Verona and is around 62 km from Brescia which takes around 50 min. As before I would, for the first time strongly suggest taking the main and toll roads for the same reasons. (don't forget to have your notes and change handy - hold ups at the waypoints do annoy some people who might be behind you!!)
Note: When driving onto the toll roads you pick up your automated ticket from the machine on entry and ONLY PAY on exit at the end - so, have your money ready at the end
CAR HIRE
Hire car is available through all the major dealerships at both airports. Access to the offices is very easy at both sites although the building at Verona is closer to the Terminal - book in advance when the Mille is on - demand is much higher than at times outside the event!
DRIVE
If you want to drive then thats fine - obviously it takes longer but can make the trip more exciting. It will take about 13 - 14 hours to get from Dover to Brescia a distance of around 800 miles using the A26 from Calais A4 from Reims to Strasbourg then onto Basel, skirting the north of Milan, south of Bergamo and on into Brescia - (other routes are available!!) I'd advise stopping over during the trip either south of Le Mans or in Basel
An excellent stop over is the Hotel de France
GO WITH AN ORGANISED GROUP
There are many tour groups that organise a complete itinerary for you. This involves hotels , flights, getting to and from the Brescia, some meals and excursions either side of the event. They vary in cost and content and can be found via Google - searching for Mille MIglia tours
WHERE TO STAY
Although the event is run over 4 days it is always best to arrive a day or two earlier (I always arrive on the Tuesday afternoon) in order to get your bearings, check out the centre of Brescia, work out you travel times in and out of the centre, check out the local map (available from reception - all staff are very Mille savvy and can tell you where everything is) and most important of all the later you leave it you'll experience increasing number of road closures ahead of the event
Brescia has a large number of hotels but…….they all get booked up very quickly so…. BOOK AS EARLY AS YOU CAN!!!!
Parking is at a premium in and around Brescia and especially in May so choose a hotel with parking attached to it and make it clear to the hotel (or your agent) when booking that you need parking if you don't they will assume that you don't need it and then you have a problem!!
An ideal Hotel is the Novotel Due - very easy to get to from the Brescia interchange, it has onsite parking - both secure, beneath the hotel (only really need this if you are arriving in a Classic vehicle) and general parking which is gated and next door to the Hotel
Getting into Brescia for the action is best done via the Metro which is a 5 min walk from the Hotel and is clean, efficient, inexpensive and gets you into the centre of Brescia in around 10 mins. If you feel particularly fit you can of course walk - allow around twenty - thirty mins
If you are using the Metro it is best to get a bundled ticket (three or four return journeys) as it's cheaper and more efficient - PLEASE REMEMBER to stamp you tickets at the machines in the station (adjacent to the ticket machines) in order to validate them - you could get fined if you don't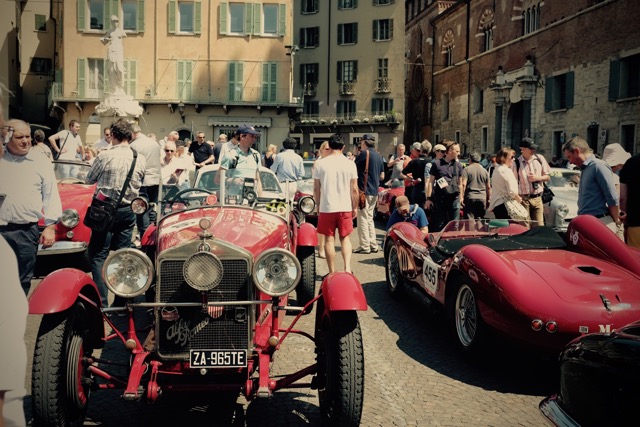 WHAT TO DO
The Mille MIglia is run over 4 days, usually the Thursday - Sunday - althoiugh the start can move sometimes - regular updates will appear on this Blog
Although there is little in the way of car activity on the Tuesday its always a very good atmosphere in Brescia centre - with the build up of anticipation - grab a coffee or beer and just watch everything and everyone!
On the Wednesday the activity begins to build, more cars appear and Mille team members are increasing in number. At around 6pm there is a very Italian activity - "The Blessing of the Cars" Mass and a blessing of selected cars representing the Mille Miglia takes place outside the Duomo Vecchio in Piazza Paolo VI - do try and get to see this as it sets the whole scene for the weekend
At around 6 pm cars begin to arrive in the streets in and around Piazza della Vittoria ( this is where your free hotel map comes in handy!!) - parked up side by side in all the narrow ancient streets they make quite a spectacle - they remain there until the "Sealing Ceremony" finishes on the Thursday.
Being able to mingle in around the parked cars with drivers and crew is a real privilege
Thursday is a day of frenetic activity, so get out early (coffee essential - my all time favourite coffee pit stop is Caffe Floriam - Via Gasparo da Salo) and be prepared to stay out all day. The Sealing Ceremony is in full swing - cars arrive in Piazza della Vittoria throughout the day, although the Piazza is itself a restricted area (press and drivers only) there are plenty of vantage points around the square itself.
The constant stream of cars arriving at the Piazza from every corner of the town offers a unique opportunity to see, touch, photograph, to weave in and out of the cars, chat to drivers, shake hands etc etc - they really are a very friendly bunch
Depending on what the organising committee have decided the cars leave the start line at either 2:30 in the afternoon or 7pm in the evening - you will know well in advance
The start takes place in Viale Venezia - its very visable - by all means check it out it is interesting - lots of bi-lingual chat and discussion with each driver that approaches the starting ramp. However if you want a closer look at the cars, drivers and teams, head away from the start along Viale Venezia toward the roundabout at Viale della Bornato and Via Piave (that hotel map again!!)
Along this route you will see and touch pretty much every car in the race - they will be lined up (mainly parked up) waiting to be called to the start - the lowest numbers start first
Walking this route is an excellent way not only to see the cars but to meet locals who turn out in their hundreds - lining the streets, filling the cafes, sitting on the grass banks and open spaces.
Walk down one side and then up the other - watch out for the Nuns at the local convent who seem to know every Italian driver by name - they're on the street chatting and shaking hands!!!
When you have walked back up the Viale make sure you are on the side of the park (opposite the starting ramp) and remember to cross the road at a point lower down the street - if you wait until you are close to the start the barriers will prevent you from doing so.
Make your way back into the centre of Brescia and choose a bar or coffee shop to sit and watch the cars parade around the towns streets before they head off onto the first leg stop over - usually Sirmione (more of that later) Then make your way back to your Hotel and get ready to go back out and eat in Brescia.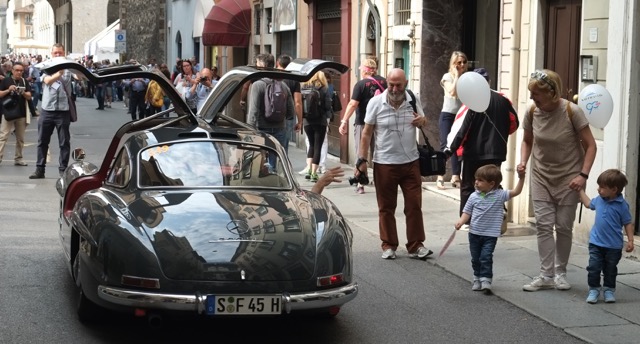 WHERE TO EAT
Restuarants, Trattorias, Osterias and Cafes are, as you would expect extremely busy and the cardinal rule here, especially when it comes to lunch and dinner - is to book and book early!! - otherwise …no food!!
Brescia has hundreds of places to eat and the choice is yours but here are a couple of suggestions:
Trattoria Porteri, Via Trento
Osteria del Savio, Via Giovanni Piamarta
Trattoria Caprese, Piazza della Loggia
Vasco de Gama, Via dei Musei
Antico Beccaria, Via Cesare Beccaria
But.... please remember to BOOK!!!
After you have eaten take time to just wonder the streets of Brescia before heading back to you hotel and get ready to do it all again!!!
AFTER MILLE MIGLIA
Once your visit to the Mille MIglia is over you may choose to stay on in Northern Italy for a few more days and if so then I suggest you take a look at visiting one of the following towns:
Sirmione, Ferrara, Verona,
All are easily reachable by car and provide a pleasant alternative to the three or four days of frenetic Mille Miglia energy
SIRMIONE
Sirmione is a very pretty small town on the tip of the peninsula on the southern shore of Lake Garda - the largest of the Italian Lakes. It is dominated by the Rocca Scaigera castle at the entrance. One thing to remember is that if you are driving onto Sirmione (it is accessed via a bridge) you must pre book you parking with the Hotel and have a confirmation not ready to show the Police at the entrance - no note no entry!!. This is to minimise the number of cars entering the town, because, as you will find the streets are very narrow and full of pedestrians
If you want to explore make the most of the many boat trips to towns around the lake. All go from the central pier in Sirmione
There are a number of hotels to choose from but I would recommend Hotel Flaminia - family run, overlooking the lake and situated in a quiet car free street
It takes around 40 minutes drive from Brescia or 1 hour 15 minutes on the Bus.
FERRARA
Ferrara is one of Emilia Romagna's greatest walled towns. Dominated by the Castello Estense and has an abundance of superb Renaissance buildings and a stunning Cathedral. Bicycles are the preferred mode of transport, little in the way of cars, wide open streets and Piazzas and relatively few tourists!
One of the nicest Hotels I have experienced is the Hotel Ferrara
It takes around a 2 hour drive to get from Brescia to Ferrara, alternatively you can get the train which goes via Verona and takes 2 hours 10 minutes
VERONA
Verona is a gem! - a vibrant city, the largest in the Veneto region, brimming with fabulous Roman architecture including a 1st-century Arena that hosts major musical and theatrical events. The main market which is found in Piazza Erbe is well worth a visit and the main meeting point is in Piazza Bra.
Yes it does have its fair share of tourists given the Shakespeare connections but there are plenty of other distractions
Getting to Verona from Brescia is best done by car to the Airport (where you can drop off your care) and then either get a cab or shuttle bus into the City Centre. If you are going by bus the best drop off point is Piazza Bra, which is right in the centre of the City and directly opposite the Arena
Eating and drinking establishments are a plenty but do try and avoid the central tourist traps. I have a particular favourite way off the beaten track yet very close to the centre…….but you will have to contact me direct to find out where that is!!!!!
Buon Viaggio!!!
Ciao